Affordable, Integrated Technology Solutions Designed by Highly Experienced and Successful Fund Managers
We help you focus on what you do best: managing your clients' portfolios, while we do what we do best: providing you with cutting edge technology solutions specifically designed for you by former fund managers and Wall Street veterans. Our portfolio analytical tools and real-time performance and risk reports can help you make well-informed investment decisions. We can also help you control costs, reduce operational risks and improve credibility, efficiency and transparency. Given our years of experience managing hedge funds, we know the business and we know what is important for hedge fund managers.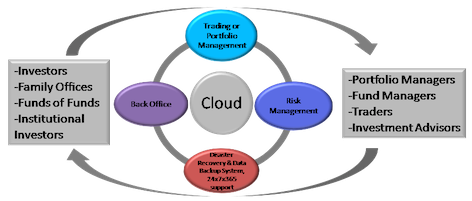 Strong Demand for Portfolio and Risk Management Technology Platforms
In today's world, fund managers are faced with growing scrutiny over the fund's operational proficiency, rising competition and more legal, regulatory and compliance costs. AIMPaaS™ has created the technological infrastructure to address these issues, in an affordable, user friendly environment. We provide cloud-based trading, portfolio and risk management platforms for fund managers, and investors. Our state-of-the-art technology solutions are tailored to our clients' needs and can help them effectively manage their investments.
AIMPaaS™ Advantages
High performance technology infrastructure that can be used for ultra-high frequency hedge fund.
Ultimate mobility through cloud-based platform, combined with scalability.
Customizable dashboards.
Secure access to your own trading server from anywhere in the world.
Access to risk control and monitoring system that alerts you to key trading violations.
Real-time performance and risk monitoring.
Intuitive interface with built-in "fat-finger" protection.
Affordable, scalable solution that can grow with your business.
Ability to add and remove services according to your business needs.
Built-in disaster planning and off-site backups.
Portfolio management tools that seamlessly allocate trades to managed accounts.